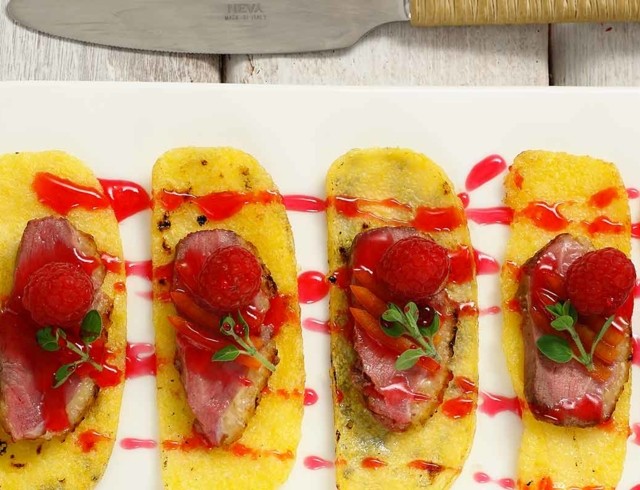 Duck breast on polenta chips and redberry vinegar
Signed by: Vivien Reimbelli
Ingredients
2 duck breast
150 g corn flour for polenta
500 ml water
50 ml redberry vinegar
150 g redberries
- salt
- black pepper
Pour 1/2 liter of water and 1/2 teaspoon of salt in the Cook Processor bowl equipped with the StirAssist. Close the lid, select Stew P11, speed 0, and press Start.

When ready, add the corn flour trough the lid hole and keep cooking.

Meanwhile heat a frying pan and add the duck breast with the skin engraved with a knife. Place the meat with the skin turned downwards. Add salt and pepper.

Roast the duck 5 minutes per side.

Remove the breast from fire and place in a bag to vacuum in the Chef Touch .

Set the breast in the steam oven and cook for 12 minutes.

Pour the polenta in a rectangular tray and let cool .

Thinly slice the polenta and fry in a frying pan with olive oil until crisp.

When the duck is ready, remove from the oven and from the bag and cut in thin slices.

Serve the duck slices on the polenta chips and dress with the redberry vinegar than garnish with fresh redberry.
top