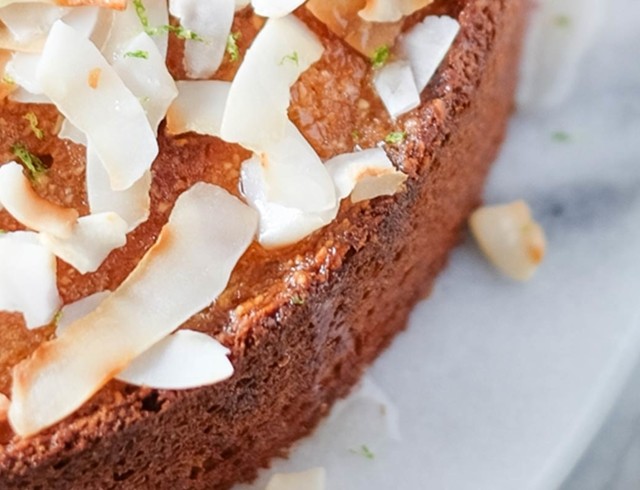 Gluten free lime and coconut cake
Signed by: Edd Kimber
Ingredients
- for the cake
175 g unsalted butter
50 g caster sugar
Zest of two limes
3 large eggs
150 ml coconut milk
200 g ground almonds
100 g desiccated coconut
1 tsp baking powder
- to decorate
50 ml lime juice
Zest of 1 lime
50 g flaked coconut
To make the cake preheat the Kitchenaid Twelix Oven to 170°C on "Forced Air" setting and grease a deep 20 cm round cake tin, lining the base with parchment.

Place the butter, sugar and lime zest into the bowl of the Artisan Stand Mixer fitted with the paddle attachment. On medium/high speed beat together until light and fluffy, about 10 minutes. Add the eggs a little at a time, beating until fully combined before adding more. Once all the eggs have been added pour in the coconut milk, and mix briefly to combine. Add the almonds, coconut and baking powder and mix together until just combined. Scrape the batter into the prepared pan and bake in the preheated oven for about 50 minutes or until a skewer inserted into the middle of the cake comes out clean. Allow to cool in the pan for 10 minutes before inverting onto a wire rack.

Whilst the cake is baking place the lime juice and caster sugar into a small saucepan and bring to a simmer, cooking for a few minutes or until the sugar has fully dissolved. Once the cake has been turned out onto the wire rack poke a skewer all over the top of the cake and brush the syrup over the cake, allowing it to soak into the cake. To decorate scatter over the flaked coconut and finish with a grating of lime zest.

Kept in a sealed container this cake will keep for 3-4 days.
top