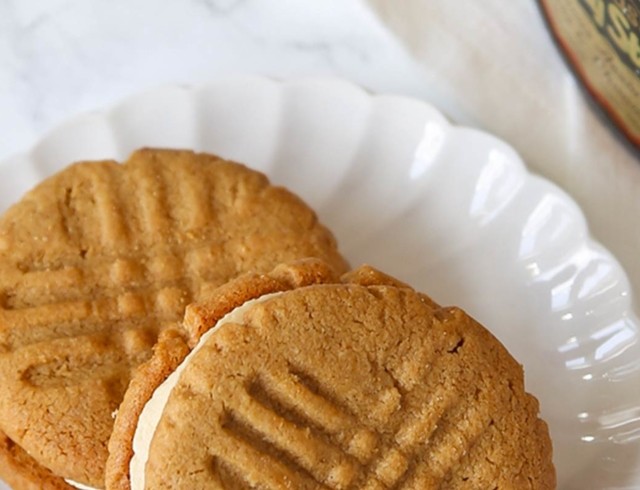 Peanut butter sandwich cookies
Signed by: Edd Kimber
Ingredients
- peanut butter cookies
300 g peanut butter
100 g unsalted butter
225 g light brown sugar
1 large egg
175 g plain flour
- peanut buttercream
100 g smooth peanut butter
200 g icing sugar
Preheat the Twelix Oven to 170°C and line two baking trays with parchment paper. To make these peanut butter sandwich cookies place the peanut butter, unsalted butter and sugar into the bowl of the Artisan Stand Mixer, fitted with the paddle attachment and beat together for about 3-5 minutes or until the mixture is smooth and evenly combined, using the Stand Mixer means this will only take a few minutes. Add the egg and mix together until fully combined. Add the flour to the mixture and on low speed mix briefly until the flour has been combined and a dough has just been formed, dont overmix the dough or the cookies will be tough.

Roll the dough into small balls and place on the prepared baking trays, you should get about 28-32 cookies in total (you'll need to bake these in batches, baking about eight cookies per tray).

Use a fork dipped in flour, to press and cross into each cookie before baking the cookies in the preheated oven for about 16-18 minutes or until lightly browned around the edges. Allow to cool on the trays for a couple minutes before transferring to a wire rack to cool completely.

To make the peanut buttercream place the butter and peanut butter into the bowl of the Artisan Stand Mixer fitted with the flat beater, and beat together for about 5 minutes or until smooth and creamy. Add the icing sugar, a little bit at a time, beating together until you have a light buttercream. Place the buttercream into a piping bag fitted with star piping tip and pipe onto half of the cookies, sandwiching together with a second cookie.

Kept in a sealed container these cookies will keep for up to three days. If you want, you could use crunchy peanut butter in the cookies instead, or maybe, even add a handful of chocolate chips.
top