The grain mill for mixers (5KGM) is for grinding wheat, oats, rice, corn, barley, buckwheat, millet and low-moisture non-oily grains. Before you use it for the first time, you need to wash off the oil that has protected the burrs in storage.
How to remove the oil from the grain mill:
The grinding burrs of the grain mill attachment have been lightly coated with mineral oil to avoid rusting during storage. Make sure you wash off the oil with a mild detergent solution and allow it to dry thoroughly. If you do not remove the oil, the burrs will become clogged, and the grinding action will slow down.
How to put the grain mill together: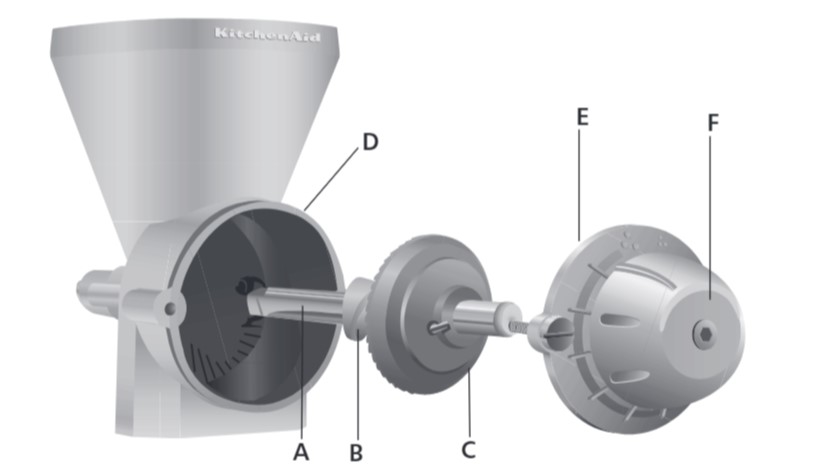 Insert the attachment power shaft (A) with the grind worm (B) and movable burr (C) into the grain mill body (D).
Mount the front plate (E) with adjustment knob (F) on to the front of the shaft.
Turn and tighten screws into place.
Now, you can attach the grain mill to your mixer via the attachment hub.
How to attach the grain mill to the mixer:
Turn the mixer off (speed '0') and unplug it.
Depending on which type of attachment hub you have, either flip up the hinged cover or loosen the attachment knob by turning it counter clockwise and removing the attachment hub cover.
Insert the attachment shaft housing into the attachment hub, making certain that the power shaft fits into the square hub socket. Rotate the attachment back and forth if necessary. When the attachment is in the proper position, the pin on the attachment housing will fit into the notch on the hub rim.
Tighten the attachment knob until the unit is completely secured to the mixer.